Like any sport, horse riding has its competitions, it is particularly present in the Olympic Games since their inception, with three disciplines: dressage, eventing and show jumping. The International Equestrian Federation regulates and organizes international competitions of the seven most known and most disciplines practiced in the world. Besides the three Olympic, are added the hitch, endurance, reining and equestrian vaulting.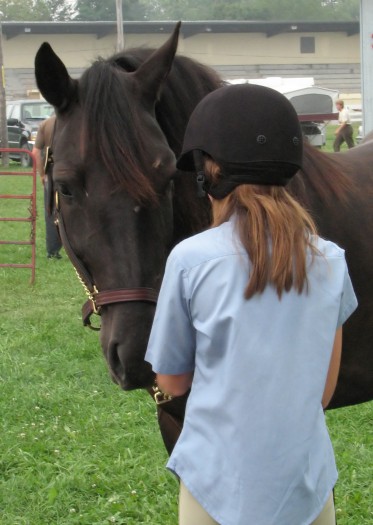 Equipment for jumping
Facilities for horses
You need a type of saddle Jumping (Jumping Competition), with a flat seat, which allows the rider to ride with short stirrups. In addition to the basic equipment (mats, cushion, thread) must, in this discipline, add protections that arise in the feet of the horse and that protect tendons in case he would receive a bar jumping.
The rider
The holding must be free and comfortable to allow greater freedom of movement. The rider wears a regulatory bomb to protect. Riders boots have non-slip soles and are flexible at the ankles. The inside of the boots is very thin to maintain maximum contact with his horse. The support legs can be strengthened by wearing spurs, which should not be too sharp to avoid injury to the horse. If required the rider can take a whip. For high level competition, it must be white pants and a jacket which should be short (to prevent it from getting stuck in the saddle) and rather broad at the shoulders.


In the dressage competition
It takes a dressage saddle. As dressage riders put on length, with a length of important stirrup leather to supervise better the horse with legs, the districts of these saddles come down low, so that the top of the boot does not hang on the bottom of the saddle flap. Also a white carpet.

Jumper side in dressage competition : a jacket ( blue or black ) , white shirt, tie, pin to put on the tie, white trousers or light beige boots / black chaps and of course a bomb.
For your competition, find the best saddle in our cwd used saddles !